Welcome to IGERD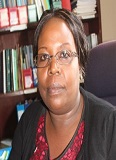 Prof. Catherine Kiprop
Director IGERD
directorigerd@mu.ac.ke
The mandate of IGERD is to mainstream gender in all the Universities' programmes and activities. IGERD discharges this mandate through capacity building and training programmes targeting senior members of management and the IGERD Board members.
"To be an advocate and a promoter of gender equity for the benefit of social justice"
"To advocate, develop and promote gender equity in all aspects of life through education, research and collaboration and linkages at local, national, regional and international levels. "